ENERGISE.ME
Digital Energy Optimisation in your Pocket
Learn, measure, coach, share
FREE ACCESS TO OUR PERSONAL ENERGY ASSESSMENT AND DASHBOARD
If you're looking to access your Personal Energy Triangle Dashboard and tools, but don't want to subscribe to any learning or coaching, simply log in or register with us and you'll be taken directly to your homepage where you can start measuring your energy today:
YOUR ENERGY TRIANGLE
HOW YOU ASSESS AND EVALUATE YOUR OVERALL ENERGY LEVELS.
ARE YOU READY TO INCREASE YOUR ENERGY, REDUCE YOUR STRESS AND TURBO CHARGE YOUR PRODUCTIVITY?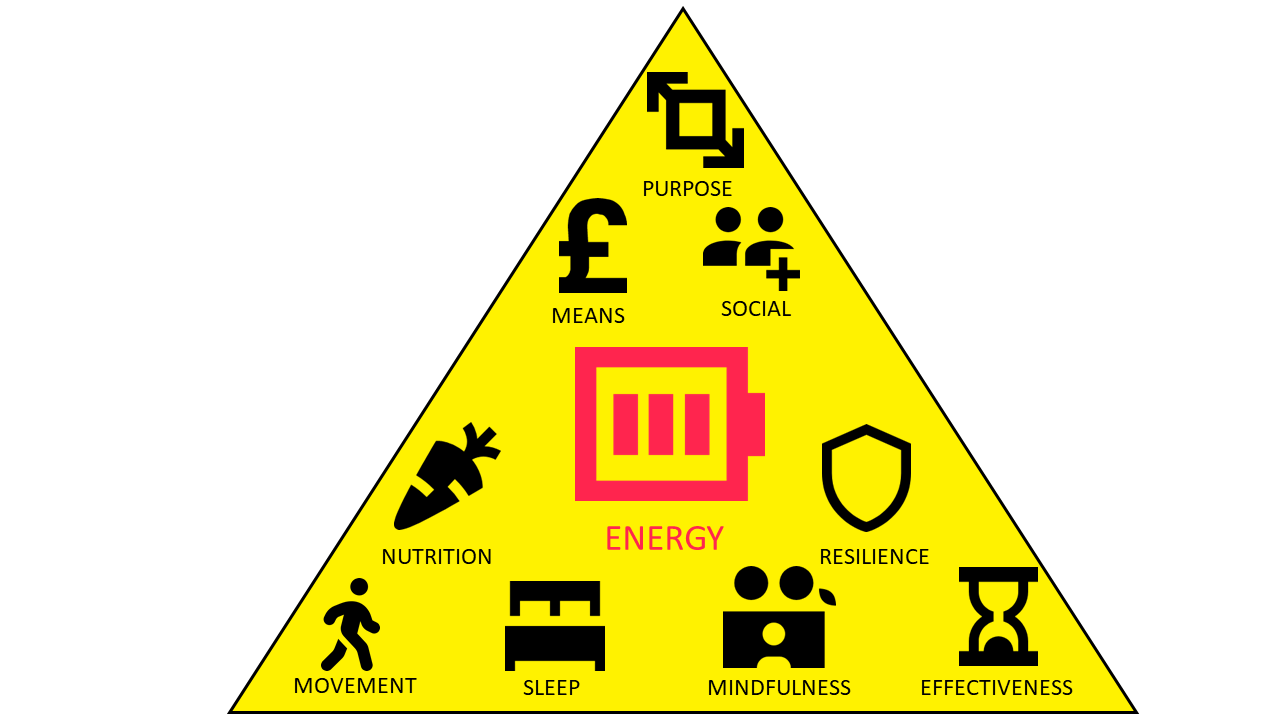 ASSESSING MY ENERGY
FREE
Forever Free
Energy Assessment and diagnostic

Access to our community of likeminded people to share your journey plus our curated resources plus bonus content

Goal setting and tracking
SELF-COACHING
£10
Per month (14-day free trial)
Everything you see in Assessing My Energy plus:

Access to all our learning packs designed specifically around your energy needs

Suitable for self-starters
JOINING A GROUP COACHING COHORT
£47
Per month (14 day free trial)
BEST VALUE

Everything you see in Self-Coached plus:

Live monthly Group Coached sessions

Access to your own facilitated private community for your coaching cohort
GET ONE TO ONE COACHING
£197
Per month

Everything you see in Self-Coached plus:

A live one to one coaching session with one of our expert coaches

Access to your coach between sessions
Frequently asked questions
1. How do I choose the right subscrition for me?
You will need to balance up how much support you want with how much you are prepared to invest. Why not make a start with the one you think looks the most suitable, then you can cancel or change your subscription later.
2. Can I switch my subscription?
Yes you can change your subscription at any time. You can upgrade or downgrade through your profile page. To downgrade to our Free Energy Assessment, simply cancel your subscription. In the Stripe subscription system (as in all subscription systems), when you downgrade a subscription, the payment gateway keeps the price difference as credits (Account Balance) in the your account. These credits are allocated to future renewals of your subscription.
3. Is my Subscription Secure?
Yes. Your Subscription is managed by Stripe, the best in class subscription payment gateway.
4. Do I have to share my outcomes and observations with others?
We've found that for most people, some mutual support and accountability is highly beneficial, however, some people prefer not to share. If you are not comfortable sharing more widely, we recommend you join a Private coached cohort where you only share with a small group and discussions are facilitated and moderated by one of our expert coaches. If you really do not want to share at all, we suggest you consider the Private Coaching, where you can can work confidentially on a one to one basis with one of our coaches.
Subscribe to our Newsletter for latest news.
Get weekly updates on live streams, news and more right in your mailbox.
Subscribe to our newsletter now!
Get regular updates on live streams, news and more right in your mailbox.
Created with