ENERGISE

D
OPTIMISED
SUCCESSFUL
TAKE CONTROL OF YOUR FUTURE, MAXIMISE YOUR ENERGY, MINIMISE YOUR STRESS AND PROPEL YOURSELF ALONG THE PATH TO SUCCESS.

MORE ENERGY
TO BE

MORE EFFECTIVE


TO BE

HEALTHIER
YOUR ENERGY TRIANGLE
HOW YOU ASSESS AND EVALUATE YOUR OVERALL ENERGY LEVELS.
ARE YOU READY TO INCREASE YOUR ENERGY, REDUCE YOUR STRESS AND TURBO CHARGE YOUR PRODUCTIVITY?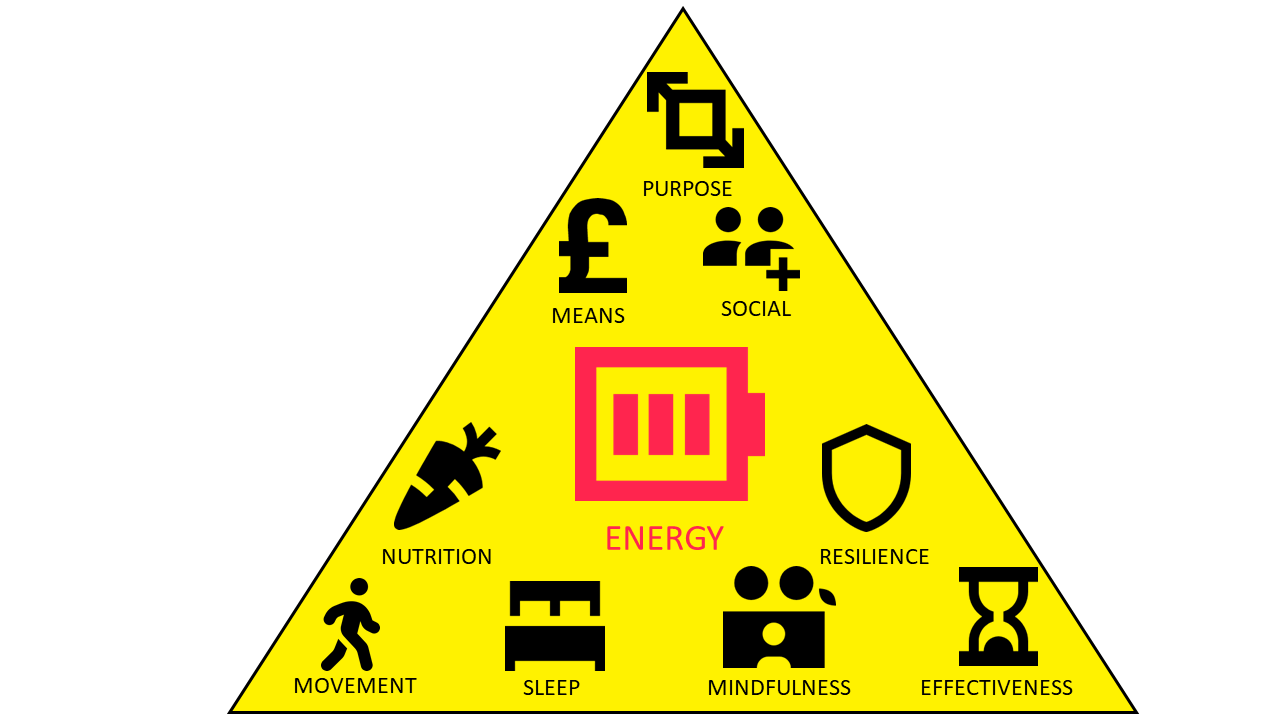 ABOUT ENERGISE ME.
WHO ARE WE?

OUR WHY
We're on a mission to energise 10 million people.

10 million might seem like a big number, but we know that positivity is contagious. If we energise you, science tells us that you'll be more likely to energise the people you meet.

We help you maximise your energy and minimise your stress. With more energy and less stress, you will feel happier, more fulfilled and be more likely to achieve the success you deserve - both at work and at home.
We do this 100% online, so fit around you
.
‍
So really, it starts with you.
‍
Everyone has dreams and aspirations, but not everyone has the drive to make them a reality. Using our proven method, combining knowledge, coaching and peer-to-peer accountability, we will make it happen.
And if that isn't enough, you'll be more productive, making you and your business more prosperous.
Sound good?

What's m
ore, our methodology has been scientifically tested to prove the link between it and improved wellbeing outcomes.
Read the Report here.
Karl
Solicitor, Obelisk Support
It has been great doing this during lockdown. It has made a real difference to be drip-fed such positive thoughts and knowledge during an otherwise testing time. Thank you for making it available.
CLARE MILLAR
Whoop Digital
My friends, family and colleagues are always commenting on how much happier and different I am since working with Ian and taking part in his transformational training programme. I am now in control, I value my time MORE and I control it better.
Marie Finbow
Strategy Manager, New Anglia Local Enterprise Partnership
I'm finding this really helpful and enjoyable. The journey is definitely thought-provoking and sometimes challenging as I reflect on my own life goals. But more importantly, it's given me a renewed focus and the confidence to implement ways to improve my health and wellbeing which I would never have anticipated before I started on this journey.
YOUR JOURNEY
We help you maximise your energy and minimises your stress. With more energy and less stress, you will feel happier, more fulfilled and are more likely to achieve the success in work and life you deserve. We do all this 100% online. Your journey lasts as long as you need us, and includes:
Daily energy assessments.


The latest science-led learning in Energy Optimisation delivered by experts in their field.


Regular self-perceived full energy assessments.


Optional access to your own expert coach-led small cohort of like-minded individuals.


Optional exclusive one to one coaching from one of expert coaches.
Subscribe to our newsletter now!
Get regular updates on live streams, news and more right in your mailbox.
Created with